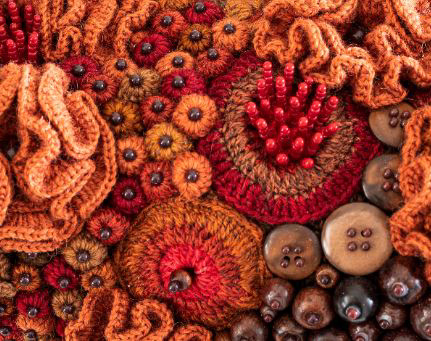 Punainen meri -teoksilla haluan tuoda esille merien haavoittuvuutta. Olen käsitellyt koralliteemaa taidetyöskentelyssäni noin 10 vuotta. Se on pieni aika verrattuna koralliriutan kasvuun, joka on noin 0,5-2 metriä vuosisadassa. Vaikka henkilökohtaisella tasolla teokseni kuvaa minun "sisäistä mertani", niin haluan tuoda esille myös merien korallien kauneuden, joka voi hävitä hiljalleen muun muassa ilmastonmuutoksen vaikutuksista. 
Punainen meri -installaatiossa on useita sekatekniikalla toteutettuja teososia. Tekniikoina olen käyttänyt muun muassa perinteisiä tekstiilityötekniikoita, kuten käsin ompelua, virkkausta ja huovutusta. Lisäksi olen kehitellyt omia työskentelymenetelmiä. Teoksessa käytettyjä materiaaleja ovat esimerkiksi erilaiset langat, helmet ja nuppineulat. Runsaita pieniä yksityiskohtia sisältävien tekstuurien tekeminen on erittäin hidasta ja pikkutarkkaa. Tämän meditatiivisen tekemisen hitauden myötä saan yhteyden sisimpääni. Teososien koot vaihtelevat, pienimmät osat ovat halkaisijaltaan noin 7 cm.
With the Red Sea artwork, I want to highlight the vulnerability of the seas. I have dealt with this theme in my art for about 10 years. This is a small amount of time compared to the growth of the coral reef, which is about 0.5 to 2 meters per century. While on a personal level, my work depicts my "inner sea", I also want to highlight the beauty of ocean corals, which can slowly be lost, for example, through the effects of climate change.
The Red Sea installation currently has about 40 mixed media parts. I have used the techniques of hand-sewing, crocheting and felting. I have also developed working methods. The materials used in the work are threads, beads and pins. Creating textures with rich little details is extremely slow. Because of the slowness of this meditative process, I get in touch with myself. The size of the pieces varies, for example the largest individual pieces are 22x44x8 cm and 32x40x8 cm and the smallest ones are about 7 cm in diameter.